Feeding your dog table scraps: the right way
Updated: Feb 4
A quick guide on identifying the foods that are safe to share with your pupperdoodle dog.
What kinds of foods are off-limits?
It's hard to know when it's safe to feed a dog your table scraps, or where our bio-chemistry diverges. Here's a quick list of things that have a too-high chance of causing fatal problems:
Shallots (Onion & Garlic) - While the onion or garlic clove itself is not inherently toxic to dogs, the size of the molecules that these foods break down into, is too large to pass through a dogs kidneys. This can lead to kidney failure and death.
Chocolate or Candy - As with shallots, chocolate and other american candies break down into substances not easily cleared by your dog's blood filtration system. In chocolate, the chemical to worry about is Theobromine, where the sweetener Xylitol is to blame for the toxicity of most fruity candies. Your dog can't metabolize these chemicals quickly, and if they ingest too much at once, can become severely ill or perish.
Whole seeded or stone-fruit - Most fruit is actually ok for your dog, and a healthy way to give them a treat! The issue with seeded fruit (apples, specifically) and stone-fruit (anthing with a pit), is that some seeds contain toxic chemicals (in apples, it's Hydrogen Cyanide), and the pit in a stone fruit can cause choking. Removing appleseeds, or peach pits before giving the fruit's flesh to your dog should sidestep the problem.
Grapes or Raisins - We're not quite sure yet why grapes and raisins cause toxicity in dogs, but the phenomenon has been well-documented. The results of which include kidney failure, and a cessation of urine production. Like people, dogs have to pee to filter their blood, so kidney failure can swiftly lead to costly vet bills or even death.
Yeasted Dough - This means rising dough, that's not been baked yet. The yeast can cause myriad intestinal problems, like gas, diarrhea, and bloating; and may also ferment sugars in the gut, causing alcohol poisoning
Anything with Caffeine - Dogs are much more sensitive to caffeine than we are... the substance produces elevated heart and respiration rates, heart arrhythmia, siezures, and in large enough doses; death.
Alcohol - Dogs get alcohol poisoning, too! The difference in why we can handle and they can't is: their bodies absorb booze more quickly, and clear it out slower. They're also a fraction of our body weight, so far less alcohol will do far more damage to a dog.
Livestock Bones - These are such a tempting treat to give a power chewer... the ham bone at Christmas & Easter, Those wing bones covered in gristle and sauce, or the ribs you picked clean at dinner. These treats shatter fairly easily, are indigestible, and the shards can cause bowel blockages that cost a fortune to fix. Likewise, the cured bones at the pet store can also shatter and cause obstructions.
It should be noted, this isn't an exhaustive list. It does, however, cover the items most folks in the U.S. are likely to encounter. Also, not all dogs are created the same... for instance, one of mine stole 7 freshly-baked garlic ciabatta baguettes off my counter cooling rack, and never had an issue (she'd also never stolen food in her life before this -- she's 11yo). Another dog I had as a kid, Emily, ate a whole POUND of instant hot chocolate mix that my mom had left out... nothing; no problems beyond the mess Emily made getting at it.
So, what's good?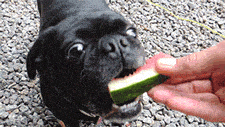 I know, you're mom's been telling you not to feed the dog from your plate since forever, and that's not what you're here for.
Below is a list of common, inexpensive household foods you CAN feed your dog:
Seedless watermelon

Apple wedges (de-seeded)

Blueberries

Carrots

Yams/Sweet Potato (fruit only, not the leaves; and cooked without seasoning)

Chicken Meat (cooked, unseasoned, off the bone)

Unseasoned, cooked ground beef or steak

Unseasoned baked salmon, cooked without oil

Cooked bacon (sparingly, and for the same reasons as humans)

Cooked, whole grain brown rice or couscous (as part of a whole-diet; do not over-feed starches, or your pet may become diabetic)

Cheese (sparingly, since cheese is a byproduct of bovine lactation and mold, and can cause gastrointestinal problems in large quantities)
To sum it all up...
No more takeout, microwaveable, or heat-and-eat treats for Fido. These items are usually chock-full of sodium, garlic and onion powders, and other complex macro-molecules that are indigestible for man's best friends.
Dogs are not as far on the evolutionary trail as humans, and as such, don't have the digestive system to process the same refined foods we can. It's best to feed them things closer to their wild-ancestors' diets... meats, fruits, veggies, legumes, and limited (not none) whole grains.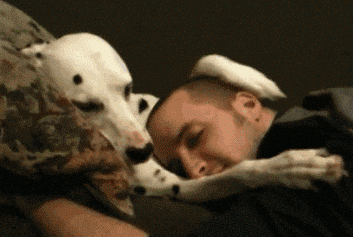 Have a comment on this article, or a question you want answered in a future post? Drop me a comment below!